Automatic Subtitle Generator
The best free automatic subtitle generator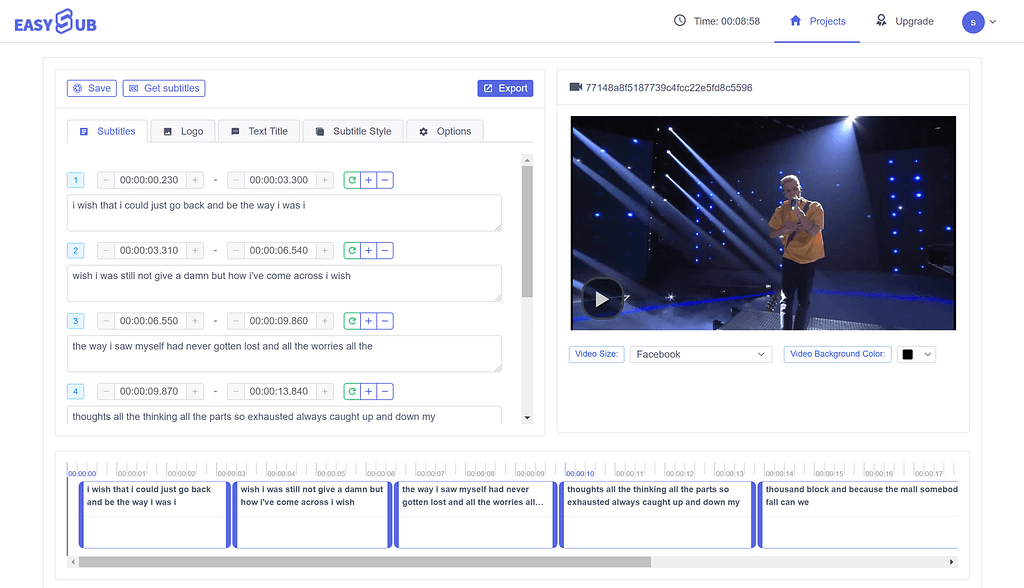 Automatic subtitles
With automatic subtitles, you can automatically generate subtitles for your video, and then render them permanently into the video (hard-coded subtitles). Then download them as separate subtitle files (SRT, TXT, etc.). Our automatic subtitle creation tool uses artificial intelligence technology to generate your subtitles with an accuracy close to 90%. In addition, combined with our simple and powerful video editor, Autosubtitle is the best choice to automatically add subtitles to your videos online.
Why do you want automatic subtitles?
Accessibility-Government and educational videos must be transcribed and subtitled in order to provide the same experience for people who are deaf or hard of hearing.
Social videos-more than 80% of videos consumed on mobile devices (such as Facebook videos) are watched without audio. With subtitles, you can capture the audience's attention and convey your message.
Participate-add subtitles to your video automatically with just one click. But it will add text elements to your video and increase viewer engagement.
Automatic subtitle function
Automatic subtitles: Provide you with an automatic subtitle generator like YouTube, but we provide you with the option to burn text into the video, or save the subtitles as a separate file (SRT, TXT, etc.)
Fast transcription: Generate subtitles for your video in seconds. With just one click, our voice recognition software will automatically transcribe your video, saving you the time of manual transcription
Subtitle style: The professionally designed subtitle style makes your video editing experience fast and easy. In addition, you can change the font, size, position, letter spacing, etc.
Accurate and easy to use: Best in class, with an accuracy rate of 90%, you can edit text quickly and easily. In addition, thanks to our AI subtitle software, there will never be too much text on the screen.
How to set up automatic subtitles
Below is a guide for adding automatic captions to your videos.
Steps:

The first step is to upload your video;
The second step is to select the original language of the video;
The third step is to select the translation language of the video (optional);
The fourth step is to generate automatic subtitles;
The fifth step is to edit and proofread the subtitles;
Finally, export and save.
Hope you have a pleasant journey when using Autosubtitle Online!
Please see this article for specific details